---
iPrice: 2019 Q1 Southeast Asia E-commerce Report
Today's mobile applications play a vital role in the development of e-commerce. According to reports from Google and Temasek, Southeast Asia (Indonesia, Malaysia, Philippines, Singapore, Thailand, and Vietnam) has more than 350 million Internet users. More importantly, more than 90% of Southeast Asians connect to the Internet primarily through mobile devices.
In addition, the same report from Google and Temasek pointed out that the Southeast Asian Internet economy will rapidly develop into a $240 billion industry, with e-commerce being its main driving force. It is expected that the industry will receive up to 1020 by 2025. Billion dollars of income.
Recently, iPrice Group and App Annie collaborated to investigate the most popular mobile shopping applications in Southeast Asia in the first quarter of 2019, as follows:
Lazada, Shopee, Tokopedia dominate the market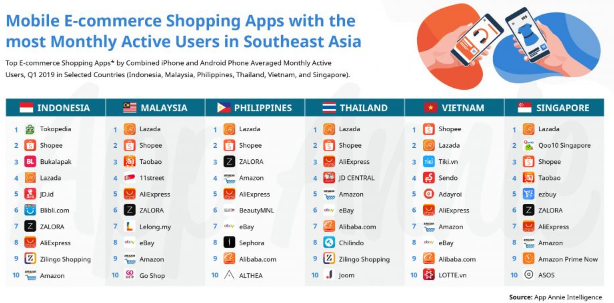 According to the survey results, Lazada received the highest average MAU in the Philippines, Malaysia, Thailand and Singapore. Lazada is also one of the top shopping apps in Vietnam and Indonesia, ranking second and fourth respectively.
In the past year, Lazada has focused on application development, with many new features including in-app live streaming and image search and in-app game "Shake It", where Lazada claims to have 500,000 daily consumption. Use these features to search up to 20 million products.
Lazada's most direct competitor in the region is Shopee, which ranks the highest in Vietnam, second in Indonesia, the Philippines, Malaysia and Thailand, and third in Singapore.
Shopee prioritizes the "hyperlocalized" user experience approach by providing different applications for each country.
Another strong competitor of Lazada is Tokopedia. Tokopedia has the highest average MAU ranking in Indonesia. Tokopedia is an important player in the Southeast Asian e-commerce sector. Last year, Tokopedia was the third-largest e-commerce platform in SEA, although it only offered services in Indonesia.
International e-commerce plays an important role
In Southeast Asia, national e-commerce players are still very popular, including AliExpress, Amazon, eBay, Taobao and so on.
Chinese e-commerce applications like Taobao perform better in countries where consumers are proficient in Chinese. For example, in Singapore and Malaysia, Taobao ranks fourth and third respectively. On the other hand, AliExpress ranks third in Thailand, fifth in the Philippines, fifth in Malaysia, sixth in Vietnam and eighth in Indonesia.
Local e-commerce is performing well
In Southeast Asia, Tokopedia is the only e-commerce mobile app that performs best in its country. Tokopedia recently received $1 billion from existing investors, making it the most valuable startup in the country.
Other e-commerce applications that performed well in the local area were Qoo10 (second in Singapore), Tiki (third in Vietnam) and 11street (fourth in Malaysia).
Southeast Asia's most popular e-commerce platform in the first quarter of 2019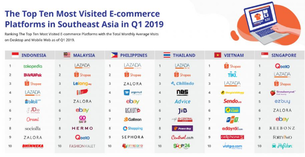 In the first quarter of 2019, Shopee became the most visited e-commerce platform in Southeast Asia (Indonesia, Malaysia, Philippines, Thailand, Vietnam and Singapore) with an average of 184.8 million visitors.
Compared with the previous quarter, Lazada's average visits fell by 12%, and in the first quarter of 2019, 179.7 million visitors were obtained.
Tokopedia, Bukalapak and Tiki are the third, fourth and fifth most visited e-commerce platforms in Southeast Asia, although they are only sold in a single market.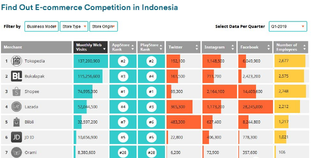 Although total visits have fallen by 12%, Lazada remains the most visited e-commerce platform in the Philippines, Thailand, Malaysia and Singapore.
In addition to Indonesia and Vietnam, other local e-commerce platforms that performed well included Lelong (No. 3 in Malaysia), Argoll (4th in the Philippines), Qoo10 (1st in Singapore) and Chilindo (3rd in Thailand).
This article Source: https://www.sohu.com/a/313564913_634586?spm=smpc.author.fd-d.15.15622300393688IpfNZx