---
Philippine TOP3 e-commerce website
Since iPrice Group tracked monthly e-commerce platform traffic and social media traffic in 2017, Lazada, Shopee and Zalora have dominated the Philippine e-commerce market for the past two years.
Lazada's average traffic (desktop and mobile network) in the first quarter of this year was 25,652,100, followed by Shopee for 15,373,900 and Zalora for 1,669,400. Argomall and eBay ranked in the top five with 1,290,500 and 896,900 respectively.
According to survey data conducted by iPrice Group and App Annie Intelligence, Lazada, Shopee and Zalora are also among the best in the 2019 Southeast Asia first-quarter TOP APP list.
Lazada occupies a dominant position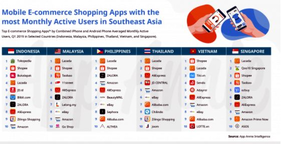 While Lazada has received strong support from Alibaba to make it a strong war-supporting business strategy, the key to Lazada's success is its ability to innovate and adapt quickly to meet customer needs.
In order to enter this market in the Philippines, they also launched LazMall, hoping to attract more people to their apps through attractive shopping and entertainment content.
Launched in August 2018, LazMall has played a key role in helping its total traffic on the desktop and mobile web and the number of monthly active users in the app.
Lazada launched in-app games in March last year, namely Fruit Slash, Birthday Blast and Popping Balloons, which were popular with users during the week-long 7th birthday celebrations last year.
The winner will receive a redeemable voucher as a reward. In addition, on March 27 last year, Lazada hosted a super party in Jakarta, Indonesia, and invited international pop singer Dua Lipa and Miss Universe Pia Wurtzbach to participate.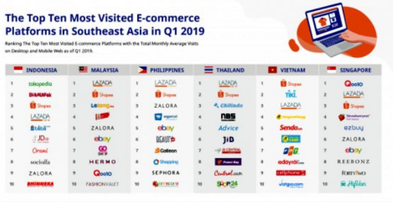 This is a grand live concert that has successfully brought users from all over Southeast Asia to the celebrations. Lazada reported that at the end of the week-long celebration, its platform had more than 318 million visits. The super party attracted 12 million hits in both apps and on TV, with a total of 2.5 million people playing games.
Shopee followed closely. At the same time, Shopee's e-commerce platform traffic was about 15.4 million in the first quarter of 2019, ranking second among major competitors and second in mobile app traffic.
Although Shopee is one of the youngest platforms in the Philippines, it does not prevent it from growing into one of the fastest growing e-commerce companies in Southeast Asia.
According to iPrice Group, Shopee ranks second in terms of social media fans, with 14.4 million fans on Facebook, 294.40 million fans on Instagram, and 775 million fans on Twitter.
With SEA investing up to $1.5 billion in funding to support its business, Shopee is expected to quickly catch up on innovation to increase its market share. Techcrunch reported in March last year that "SEA will use the funds for 'business expansion and other general corporate purposes.'" Given that SEA has recently focused on Shopee, most of the funding is expected to be allocated to Shopee.
Zalora localization
The third in the list is Zalora, because it has customized a marketing strategy that suits the Filipino fashion style and has won more loyal fans.
Zalora not only offers designs from global brands, but also works with Filipino fashion social media icons Georgina Wilson-Burnand, Isabelle Daza-Semblat, Liz Uy and Solenn Heussaff-Bolzico to launch an exclusive collection called the_edit.
Zalora has 29,000 followers on Twitter, ranking second, with 7.719 million fans on Facebook and 181,800 fans on Instagram, ranking third.
This article Source:
https://www.sohu.com/a/319979398_634586?spm=smpc.author.fd-d.15.1562144511748F30DFsS