---
Detailed introduction and operation steps of remittance system
The main purpose of the remittance system is to help overseas merchants (friends, purchasers, exporters, etc.) who order Chinese goods to remit money to Chinese suppliers or logistics providers. The purpose of the remittance system is to substitute for payment, automatically convert Renminbi into your familiar currency according to the exchange rate, and the platform will solve the payment problem for you.
Contact the platform administrator and submit the remittance information for custody. The manager helps you to remit money. You only need one step to operate, which is simple and convenient.
System Role Management
User (salesman): Submit remittance information, input the information of RMB, exchange rate and payee. The system automatically converts into money and money that need to be transferred. It can also manipulate information of many transferring businesses at one time and submit information after confirming that it is correct.
Finance clerk: The financial responsibility is to check the orders submitted by users, the amount of the company's accounts, the actual expenditure expenses, etc.
Administrator: Can help users to operate the input of remittance information, remittance information audit, transfer business information management, administrator set permissions, etc.
Operation steps of remittance system
(1) User login account
(2) [Remittance Input] Fill in Remittance Information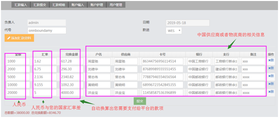 Input the amount of money, exchange rate, account number and other information that need to be remitted to Chinese suppliers.
Click submit, platform finance will pay for you to your supplier.
Users submit information that needs to be remitted, check that there are no problems before submitting, to prevent errors in input
(4) Remittance submission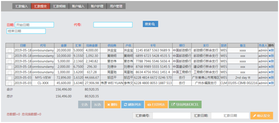 The display of remittance list can filter the required data according to the time and code number.
Remittance List Printing and Excel Form Exporting Functions to facilitate offline operation and access, etc.
(5) List of remittances submitted as remittance details
Select the remittance order that needs to be submitted, enter the remittance number and remittance time today, automatically produce a remittance list, Click to edit the remittance content;
Easy preview of printing and Excel table export;
The system automatically calculates the amount of remittance and the number of pens reported.
If the remittance submission information is incorrect, the remittance details page can be withdrawn and returned to the previous process.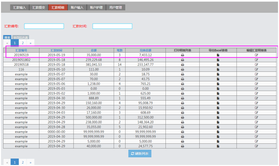 (6) Supplier Account Management
It can manage the information of suppliers (friends, purchasers, exporters and so on from all over the world). If remittances are made again in the future, the system will automatically display the relevant information.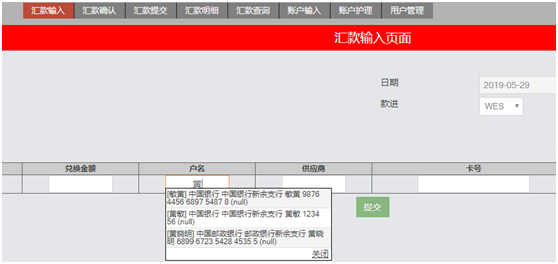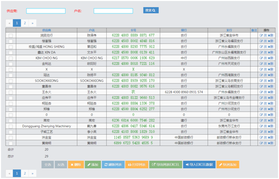 (7) Account Management and Privilege Settings of System Administrators
The management account of the system can be added at will, each account can be set the corresponding permissions, and the operation permissions can be set at will.